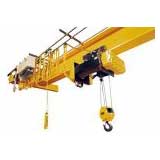 Overhead crane training and train the trainer, does your company do a lot of moving and lifting of materials using an overhead crane? Also commonly known as sling hoists training, and chain hooks. It is mandatory that all personal operating this type of equipment be certified.

This is where the BRight Group Inc, can use our 30+ years of experience in workplace training and consulting to get your employees certified in the proper use and operation of an overhead crane. The overhead crane training can be for a new operator, or used for a refresher course. We will discuss material handling and the does and don'ts of overhead crane operation.

Our training programs were specially developed to aid with illiteracy in the workplace and can work with most types of overhead cranes that you have at your facility. Including gantry crane training and jib crane training for large or small companies. Our trainers travel across Ontario icluding Hamilton, Burlington, Oakville, London, Mississauga, Niagara Falls, Toronto, Markham, Ontario, Canada, and select cities in the USA.

Overhead Crane Questions & Answers
Satety Training Tip:
Always make sure your overhead crane / sling hoist is inspected on a regular basis to avoid accidents and injury.